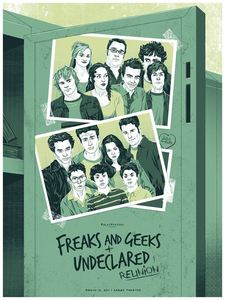 $

35.00
Gallery 1988 in Los Angeles, CA curated a series of posters for PaleyFest 2011 and we were asked to design a Freaks and Geeks + Undeclared Reunion poster to commemorate the evening in which the casts of both shows reunited for one night.
18" x 24"
Screenprint
Edition of 250 (we have much less)
NOTE: ONLY WILL SHIP TO CANADA AND UNITED STATES. International will be refunded.